In the hills above the Columbia River, sits Goldendale Observatory State Park State, a 5-acre heritage site that is home to vivid night skies and one of the nation's largest public telescopes.
Their newly renovated facility features outdoor observation areas, a picnic area, expanded parking, a paved ADA accessible path that circles the main building and south dome, and a new classroom.
The park is well known for its informative astronomy programs.
Todd Carpenter, the Observatory's Administrator, is particularly famous for his ability to both stun and amaze audiences of all ages with his knowledge of the observable universe.
In the summer the observatory is open Thursday through Sunday and hosts two shows a day: a Solar Show from 3 to 5 p.m.and an Evening Show from 9 p.m. to midnight. Show drop-ins are for groups of 5 or fewer. Larger groups must provide advance notice and reserve their seats by registering here.
Visitors who arrive early for the afternoon can enjoy a picnic outside and expansive views of the surrounding landscape before they settle in to learn more about Earth's favorite star: the Sun. And visitors who attend the evening show, can enjoy stunning pre-show sunsets from the west observation decks.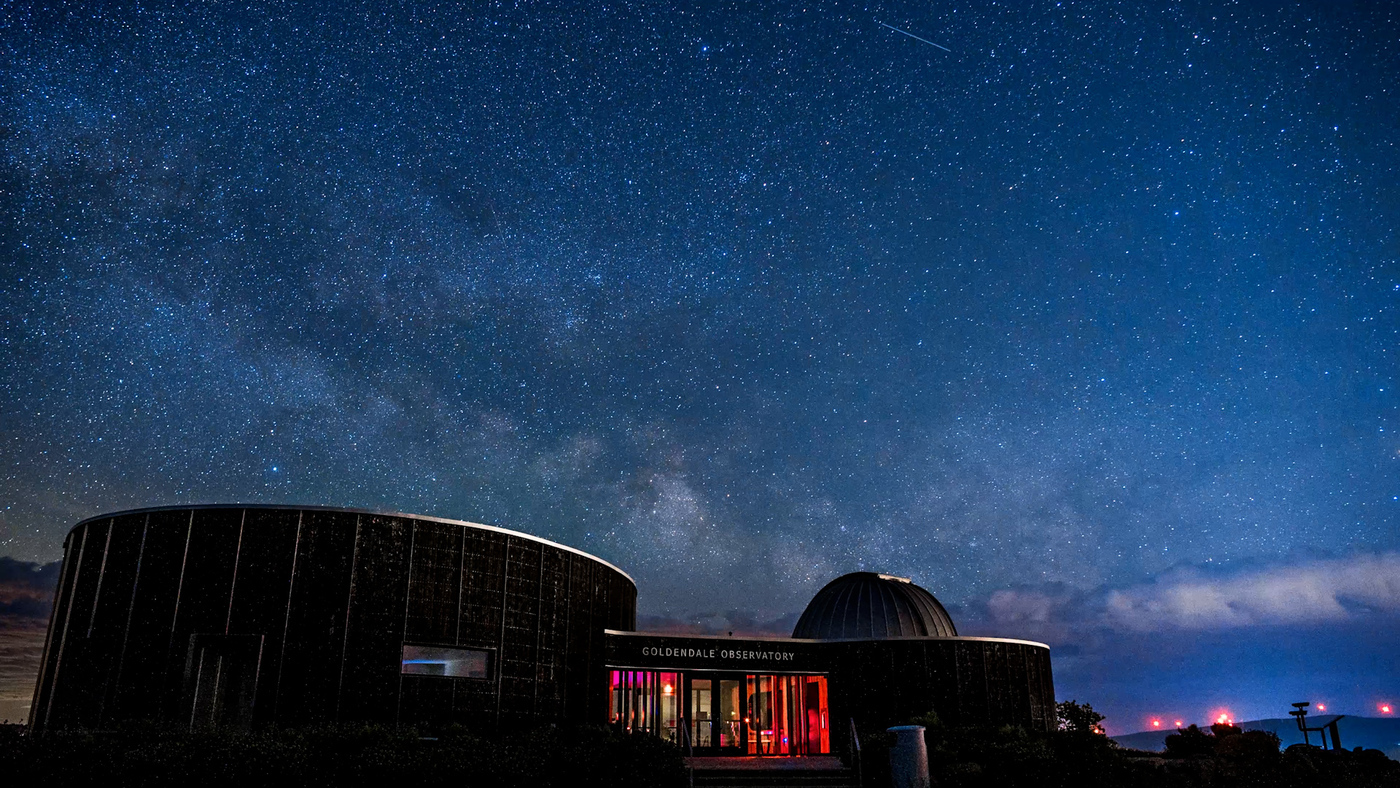 The new paved ADA accessible walkway that circles the main building and south dome is particularly nice, and features natural landscaping, beautiful panoramic views of Mt. Hood and the surrounding landscape, and bronze inlays into the cement which contain information about each planet in our local solar system.
Plan a trip to the Goldendale Observatory
Goldendale Observatory, located at 1602 Observatory Dr, Goldendale, WA 98620 is open from April through September, Thursday through Sunday from 3 to 5 p.m. Evening shows run from 9 p.m. to midnight.
Admission is free during operating hours, a Washington State Parks Discover Pass is required to park on site. Day passes are $10 and annual passes are $30. Discover passes are available for purchase at the observatory.
Free wifi is available at the park.
No camping is allowed. However, the park is conveniently located near other popular camping areas such as Brooks Memorial and Columbia Hills State Park.
VIsitors may also be interested to know that the park is also located near popular attractions such as the Maryhill Museum of Art and WW1 Stonehenge Memorial.
A map of the park is available here.
Learn more at GoldendaleObservatory.com
Watch educational videos from Goldendale Observatory here.
Original Source of the original story >> Visit Newly Re-Opened Goldendale Observatory - The Largest Public Observatory in the US